Accelerate 2022 | Alliance Partner Conference
From 27 September 2022 to 28 September 2022 (2 Days) In Person Event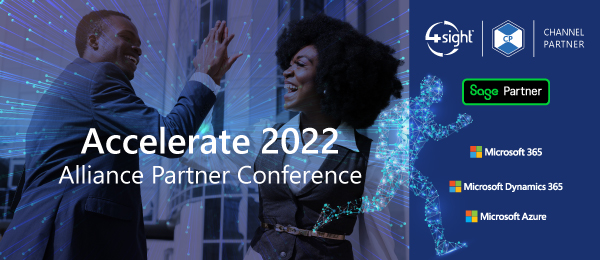 We stand on the brink of a technological revolution that will fundamentally alter the way we live, work, and relate to one another. In its scale, scope, and complexity, the transformation will be unlike anything humankind has experienced before. The Fourth Industrial Revolution (4IR) is here!
The speed of current breakthroughs has no historical precedent. 4IR is evolving at an exponential rather than a linear pace. Moreover, it is disrupting almost every industry in every country. Are you ready for 4IR? Are you ready to digital transform your customers?
Become the "DIGITALIZATION TRANSFORMATION PARTNER OF CHOICE" as your customers embark on their 4IR journey!
Join us for the annual ACCTECH ALLIANCE ACCELERATE 2022 on the 27-28 September 2022 where technologies will be showcased accelerate your journey to becoming the "Digitalisation Transformation Partner of Choice" for your customers.
Date: The conference will start Tuesday 27 September 2022 at 08H00 and will end Wednesday 28 September 2022 at 16H00.
Venue: 4Sight @ Fourways, Johannesburg, South Africa
---
AGENDA | Tuesday 27 September 2022
COFFEE

Tertius Zitzke | Chief Executive Officer 4Sight
4Sight's Journey in Africa
The secret recipe of People, Partners, Products and Passion in 4IR

Willie Ackerman | Chief Sales & Marketing Officer 4Sight
My 4Sight Sales and Marketing Accelerator Growth 5.0
Growing your sales and marketing initiatives with 4Sight

Aldo van Tonder | 4Sight – BE Cluster
The Cloud Accelerator
Accelerate your customer's journey towards the cloud

BREAK

Rudi Dreyer | 4Sight – BE Cluster
The My4Sight Accelerator
Accelerating Digital Transformation with 4Sight

Wilhelm Swart | 4Sight – OT Cluster
The IoT Accelerator
Providing key 4IR technologies and services needed to help industrial customers with their full end-to-end digital transformation journey, while following a cost effective and low risk, self-funding methodology

LUNCH

Eugene Cronje | 4Sight – BE Cluster
The Process Automation (APA) Accelerator with 4flow
Accelerate and optimize processes that will reduce cost, add control and improve productivity.

Acronis Accelerator
Accelerating our understanding of Acronis backup and next-generation, MI-based anti-malware, antivirus, and endpoint protection management with Acronis.

BREAK

Lohann Nagel | 4Sight – CP Cluster
Dynamics Payroll and HR Accelerator
An intuitive and modern payroll solution that does away with some of the legacy payroll approaches (like the month end pay-run concept) and simplifies data capture capabilities for Human Capital Management

Nick Botha | 4Sight – CP Cluster
The CSP Accelerator
How do you accelerate your Microsoft Partner journey with DAS (Dynamics Africa)?

Gerhard Hartman

&

Donavan Brink

Sage
Insights and a better understanding of how Sage can accelerate your business flow

AccTech Alliance Accelerator Achievers 2020/2021 Awards Function
---
AGENDA | Wednesday 28 September 2022
COFFEE

Microsoft
Discover where your business can go next with Microsoft using the latest technology

BREAK

Chantelle Martins | Econz Wireless
Econz Workforce Management Accelerator
Econz Wireless Leaders in Mobile Data Collection, providing Employer Solutions for Time & Attendance, Employee Tracking and Wage-Hour Compliance Laws.

Heinrich van Heerden | 4Sight – CP Cluster
Microsoft Dynamics 365 Business Central Accelerator
Streamline and grow your business with Dynamics 365 Business Central, a comprehensive business management solution for small and medium-sized businesses.

LUNCH

Business with Sage Intacct Accelerator
Learn how Sage Intacct can transform your organization

Sage 200 Roadmap 2022 Accelerator
The Roadmap reflects the Sage commitment to deliver solutions that are easy to deploy and easy to use.

Sage 300 Roadmap 2022 Accelerator
The Roadmap reflects the Sage commitment to deliver solutions that are easy to deploy and easy to use.

BREAK

Sage 300 Payroll and HR Roadmap 2022 Accelerator
The Roadmap reflects the Sage commitment to deliver solutions that are easy to deploy and easy to use.

Sage X3 Roadmap 2022 Accelerator
The Roadmap reflects the Sage commitment to deliver solutions that are easy to deploy and easy to use.

Closing Remarks

Conference Closes