Company
4Sight Holdings Limited (4Sight) is a public company listed on the JSE AltX (ticker: 4SI) incorporated on 29 June 2017 in accordance with the laws of the Republic of Mauritius, specifically for the listing of the 4Sight Group on 19 October 2017.

As a multi-national, diversified technology group, our purpose is to leverage our portfolio of 4IR technologies, people and data-focused solutions to design, develop, deploy and grow solutions for our partners, including both customers and vendors.
Our business model enables our partners to take advantage of products and solutions within our Group, which will allow them to enjoy turnkey digital transformation solutions across industry verticals. This business model is supported by a focused 'blue ocean' strategy comprising: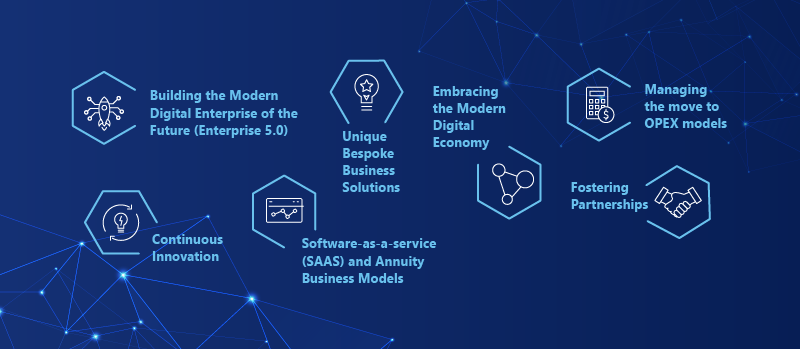 We focus on a cross-section of established, new, and emerging technologies. These include artificial intelligence solutions with machine learning, big data, cloud and business intelligence solutions, digital twin and simulation, information and operational technologies, production scheduling, horizontal and vertical integration, industrial internet of things, cloud service provider, robotic process automation and augmented and virtual reality solutions.
These 4IR technologies manifest in the various solutions we deliver to customers across all industries in both the private and public sectors.
4Sight is the digital transformation partner of choice to quantum leap your business into the realm of Enterprise 5.0.
Our clusters deliver quantifiable value by transforming technology landscapes, unlocking funds and mitigating risks through our integrated solutions to enable organisations to quantum leap their businesses into the future.