Asset Automation
System Integrators, Electrical and Engineering Specialists
Who are we?
As a leading System Integrator, 4Sight Asset Automation, provide professional System Integration of Automation and Electrical Engineering projects to South African and global companies for more than 25+ years. Our Certification across all the major Control System suppliers including Siemens, Schneider Electric, Rockwell Automation, ABB, Mitsubishi, Adroit and Wonderware coupled with our TUV ISO 9001:2015 certified quality management system, minimise the risk to our customers when delivering large Automation and Control projects. We integrate various products and solutions into one seamless system that adheres to client specifications.
Our Operational structure divides into three main solution streams with supporting functions from Sales, Engineering, Services, Project Management and Finance. More than 70% of our employees are skilled in the engineering field with vast knowledge across our key solution streams as depicted below:
Where do we fit in?
In our constant pursuit to deliver world class technological solutions, Asset Automation has joined forces with BluESP and SET under the 4Sight OT (Operational Technologies) banner. This partnership creates a new generation of industrial solutions, allowing us to bring you the best in: Asset AUTOMATION, OPTIMISATION and SIMULATION.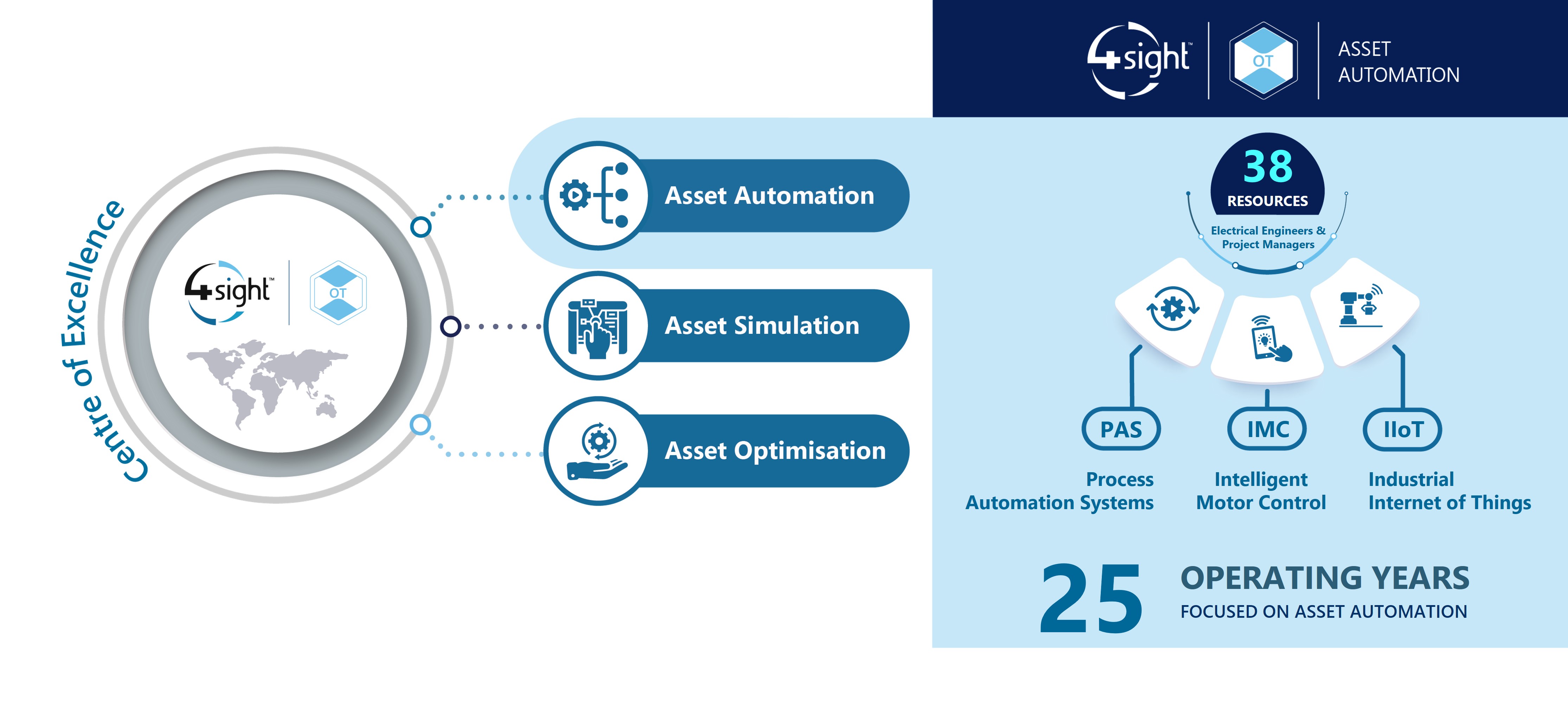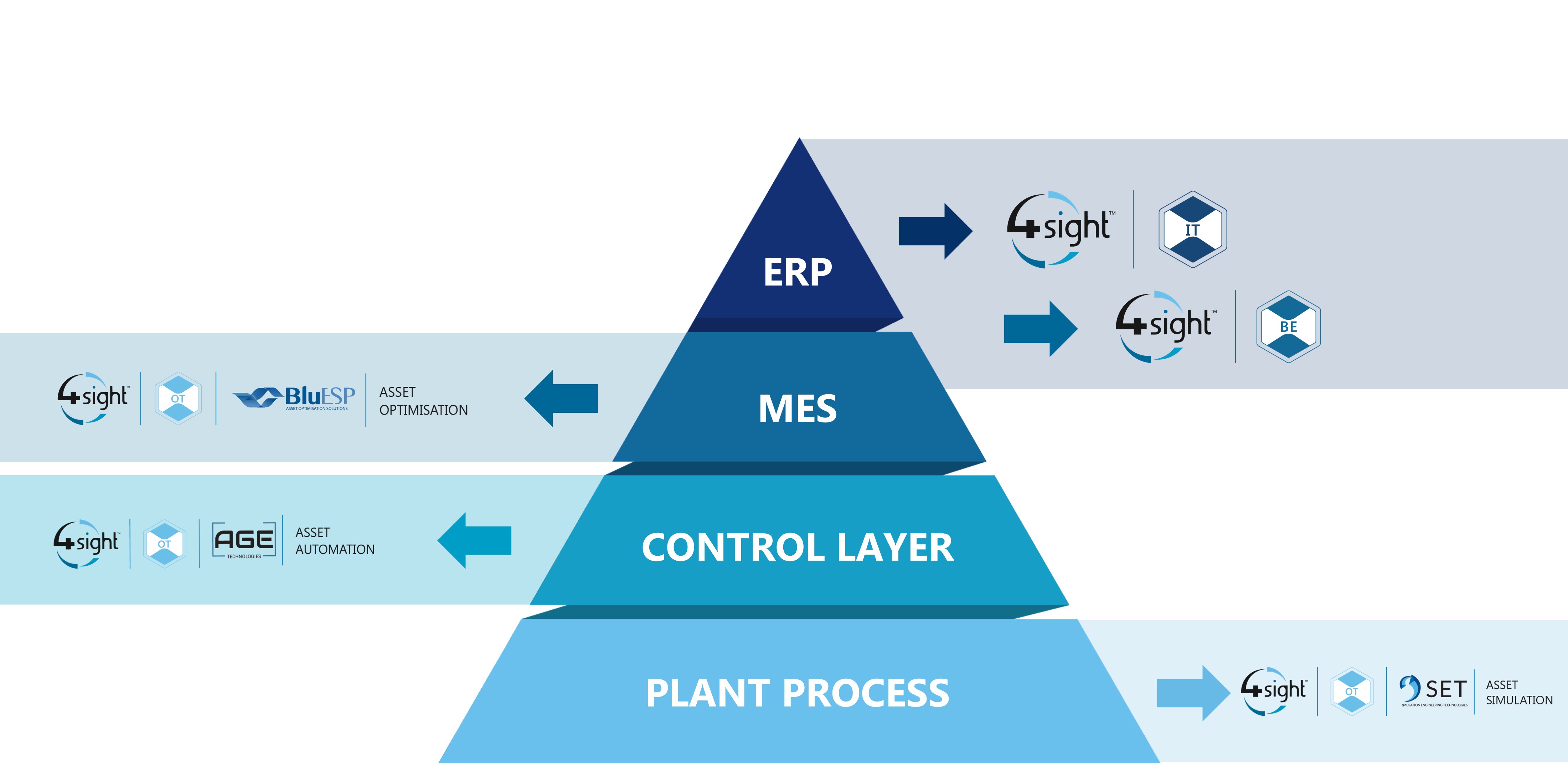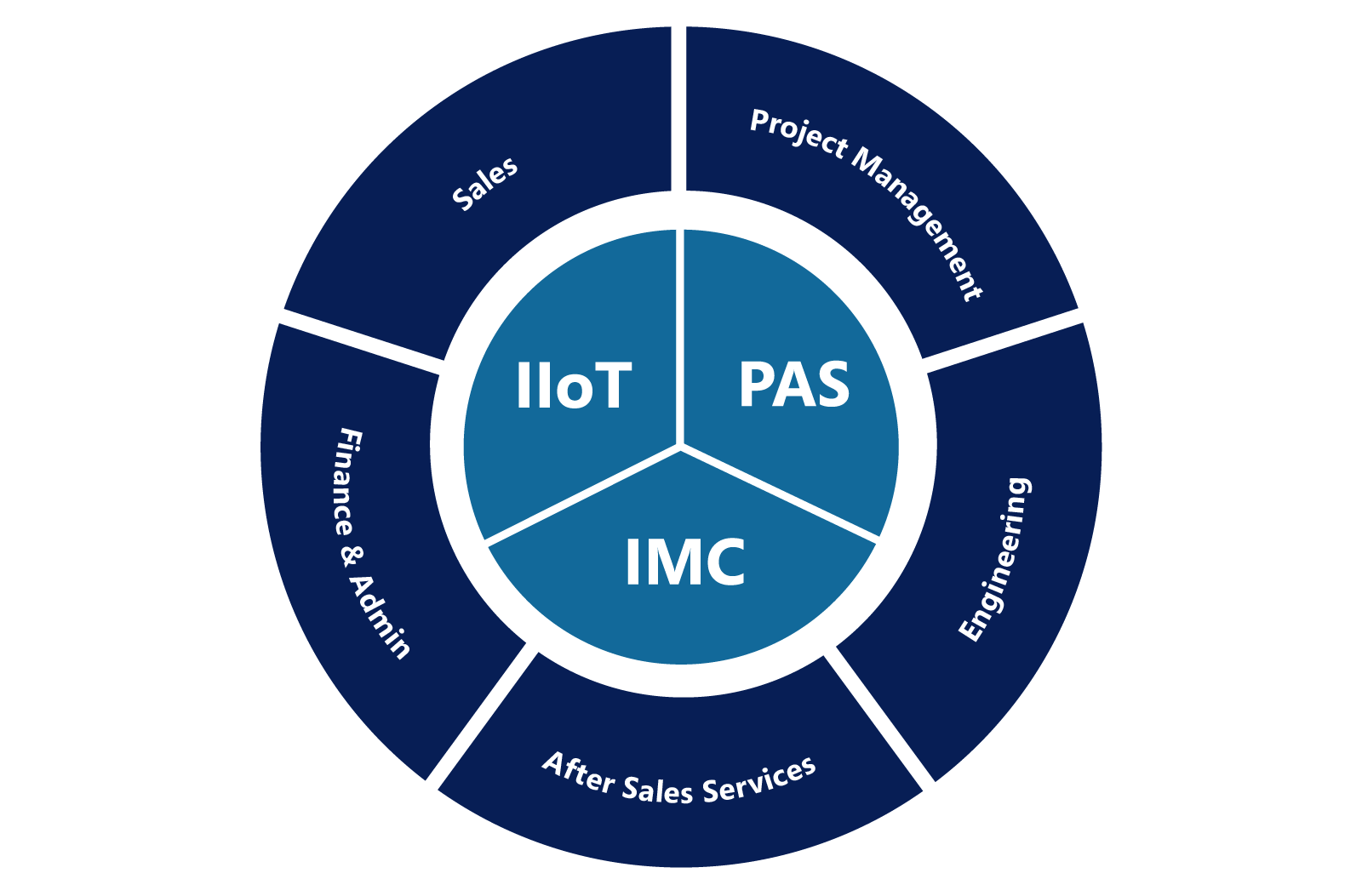 Our capabilities
Through our capabilities, we add real business value by providing integrated 4IR solutions that bring together the OT, IT and BE worlds.

Our Bouquet of Services
System Engineering
We are driven by our clients' successes, and with this in mind we dissect a client's processes to effectively conceptualize, design and implement an entirely integrated system that meets all requirements.
At 4Sight | Asset Automation, we utilize the best automation and electrical equipment, drives, power and energy products from industry leaders. All AGE Technologies' engineered systems are developed under an ISO-certified quality management system and undergo Factory Acceptance Testing (FAT).
Onsite Support
Ensuring that contractual obligations are met is a top priority. The services that 4Sight|OT renders far surpass the standard supply and delivery of goods. We offer a great deal by way of supporting the team on site as well.
Our onsite support includes:
A 24/7 Call-Out
Alarm monitoring
Automation of data collection for early-stage issue detection and rectification
Minimize downtime and breakdowns
Optimization of process with your Process Team.
Small project executed without affecting your permanent staff.
Back-ups of existing Control System Software. Both PLC and SCADA.
Onsite assistance with forward planning and design of new systems.
Training of local Engineering Staff on the Control System.
Easy and open communication with our Johannesburg Office for quick supply of any Control System hardware.
Telephone/Internet Support
Fly-out support on the next available flight
Weekly/Monthly/Quarterly/Annual System Backup and Evaluation
Software Engineering
We place exceptional value on the designing and developing of unique automation software such as PLCs, SCADA systems, MES, MIS etc. that assist in enhancing productivity and efficiency. Read more
Project Management
Utmost effort is put into project management strategies that add value through constant consideration regarding time, cost and quality. We continually strives to boost efficiency, limit downtime and identify and address areas of risk on all projects. All-inclusive solutions while remaining flexible to changes in specification are top priority. Read more
Installation
4Sight|OT provides a competent installation crew who work according to the ISO 9001 standards. Read more
Electrical Control and Instrumentation Commissioning
4Sight|OT's proficient electrical control and instrumentation teams are able to deliver a highly professional electrical and instrumentation service throughout Sub Saharan African and Arabia. Read more
Service Level Agreements
We are responsible for maintaining all equipment and software programs. Our after sales services on our systems include but are not limited to programming, maintenance, repairs and upgrades. Read more
Training
Our Training offers theoretical and practical training throughout the year in various courses. Contact us for more information
Our partners

Key customers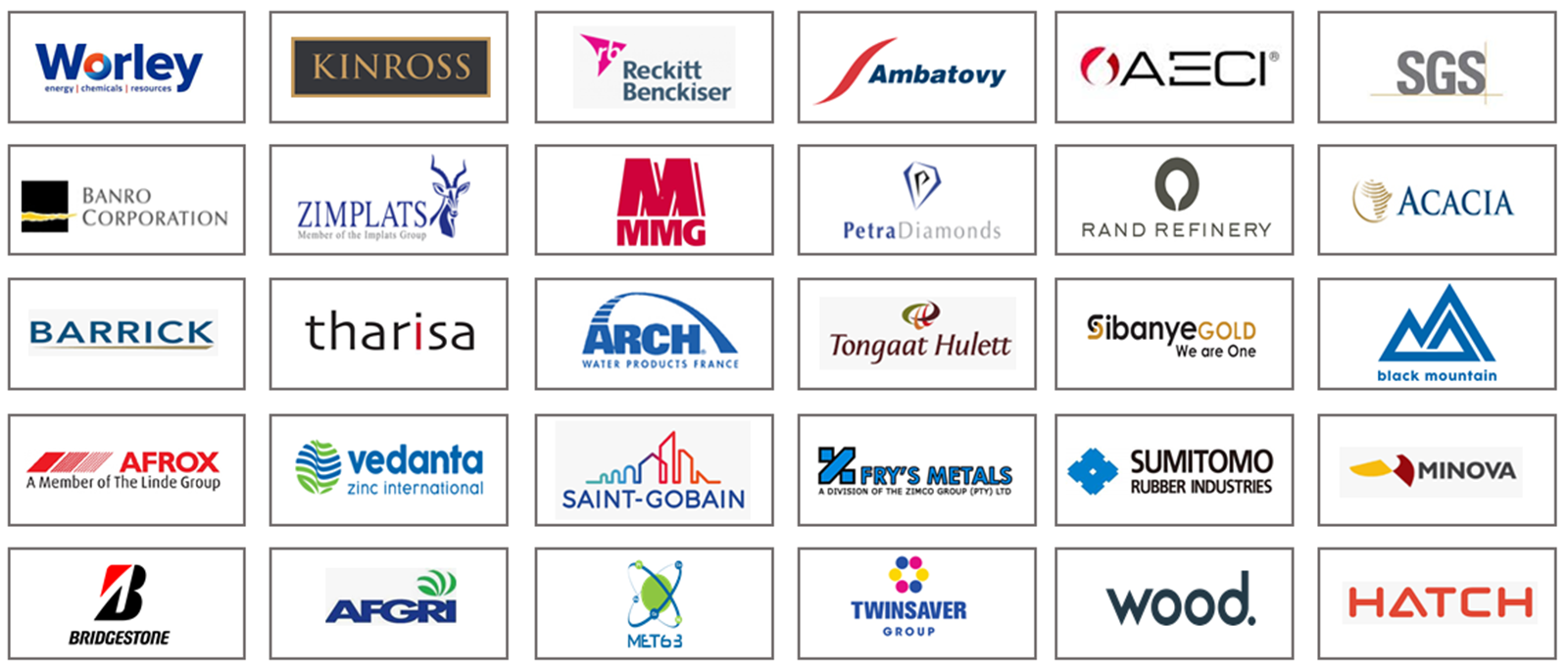 Services
Engineering
The AGE Standards incorporates and took guidance from various international standards like:

Our Engineering Team strive to build on the following pillars:

Project management
All projects in AGE Technologies are managed by a project management professional from our PMO office and follows PMBOK standards. AGE Developed Standard Control Methodologies with the use of standardized PLC function block and SCADA Object and screen developments that addresses the specific Control System requirements and needs.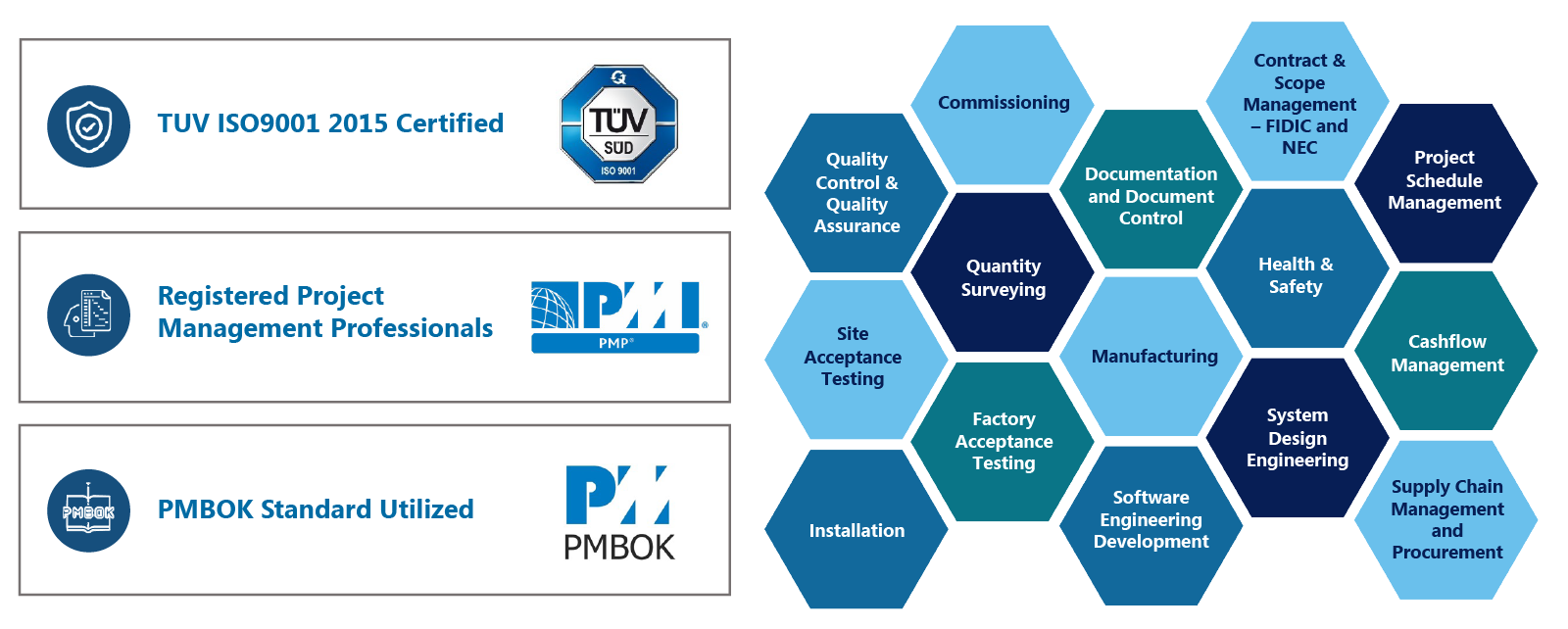 After sales service
Our Approach to Maintenance Agreements
Four Essential Pillars of Effective Maintenance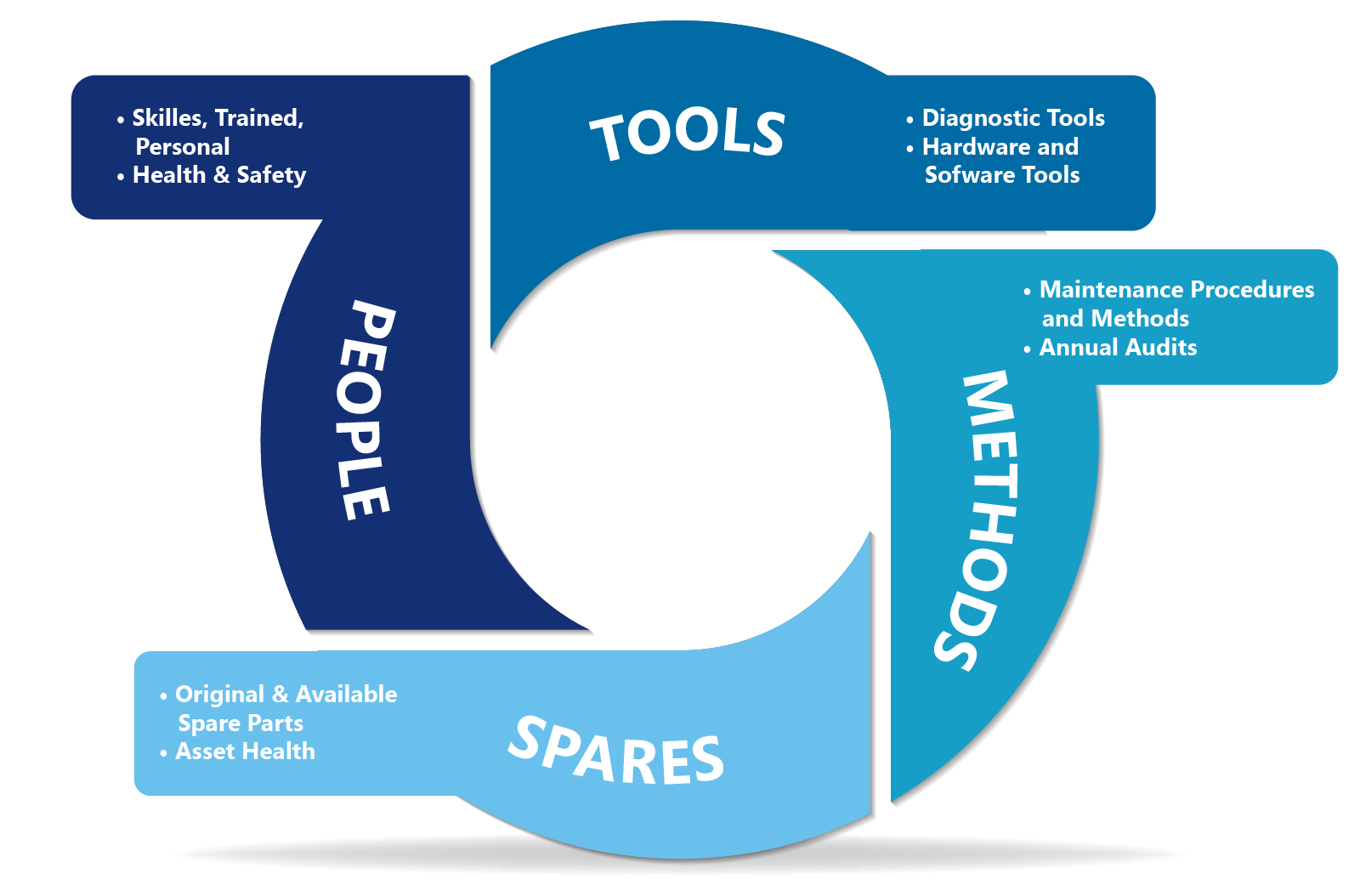 Customer Value
Increased Productivity
Increase Mean Time Between Failures (MTBF)
Decrease Mean Time To Repair (MTTR)
Improved Financial Performance
Reduced unplanned and unnecessary maintenance expenses
Avoid unplanned downtime costs
Reduced overall operational costs
Optimised Plant Assets
Extend asset useful life
Improve inventory integrity and accuracy
Improved Skills
Upskill on-site support & maintenance staff though dedicated training
Offerings
Remote support
Technical Telephonic Support
The technical telephonic support that is included in the agreement is not measured or limited. The telephonic support line can be accessed 24/7.
Remote Site Access (VPN access)
The remote connection technical support though a dedicated VPN is measured on an hourly rate. It will be additionally invoiced at the Ad-Hoc rate.
On-site intervention
On-Site Support
In case the issue cannot be resolved remotely, a Service engineer will be deployed to site. Time will be charged at the Contractual Preferential Rates. A Site intervention report will be generated and shared with the customer with all relevant details.
Audit and preventative maintenance
SCADA System Audits
Disaster Recovery, Reliability, Site skills assessment, Standards adherence, Interfaces and networking, Cyber Security, License Keys, Software Updates, Graphics, Code, Trends, Tags, System Obsolescence and Risk, Audit Report.
PLC System Audit
Disaster Recovery, Reliability, Site skills assessment Standards adherence, Interfaces and networking, Cyber Security , Licenses, Software Updates, Spares keeping, Hardware architecture, System health and Audit Report.
Training and skills development
Value
Helps employees develop their current skill set and increase their knowledge, improves productivity levels, keeps employees motivated and increase their contribution levels, improves their ability to adapt to new technology and methods, Reduces employee turnover.
Focus
General Maintenance of Control System, Fault Finding techniques on PLC and SCADA, Risk Identification and Mitigation techniques, PLC & SCADA Disaster Recovery, System Operational Training