Asset Optimisation
The 4Sight OT (Operational Technologies) Cluster focuses on delivering software solutions to the mining and manufacturing sector.
4Sight OT | Asset Optimisation
4Sight OT | Asset Optimisation is an engineering technology company that focuses on delivering Industry 4.0 software solutions to the industrial sector. These solutions enable companies to optimally operate processing plants or streamline manufacturing processes to maximise revenues, eliminate inefficiencies and minimise costs.
We provide software, consulting services, training and support services to customers to increase profitability through supply chain. Our solutions address complex environments where it is critical to optimise the asset design, operation and maintenance lifecycle.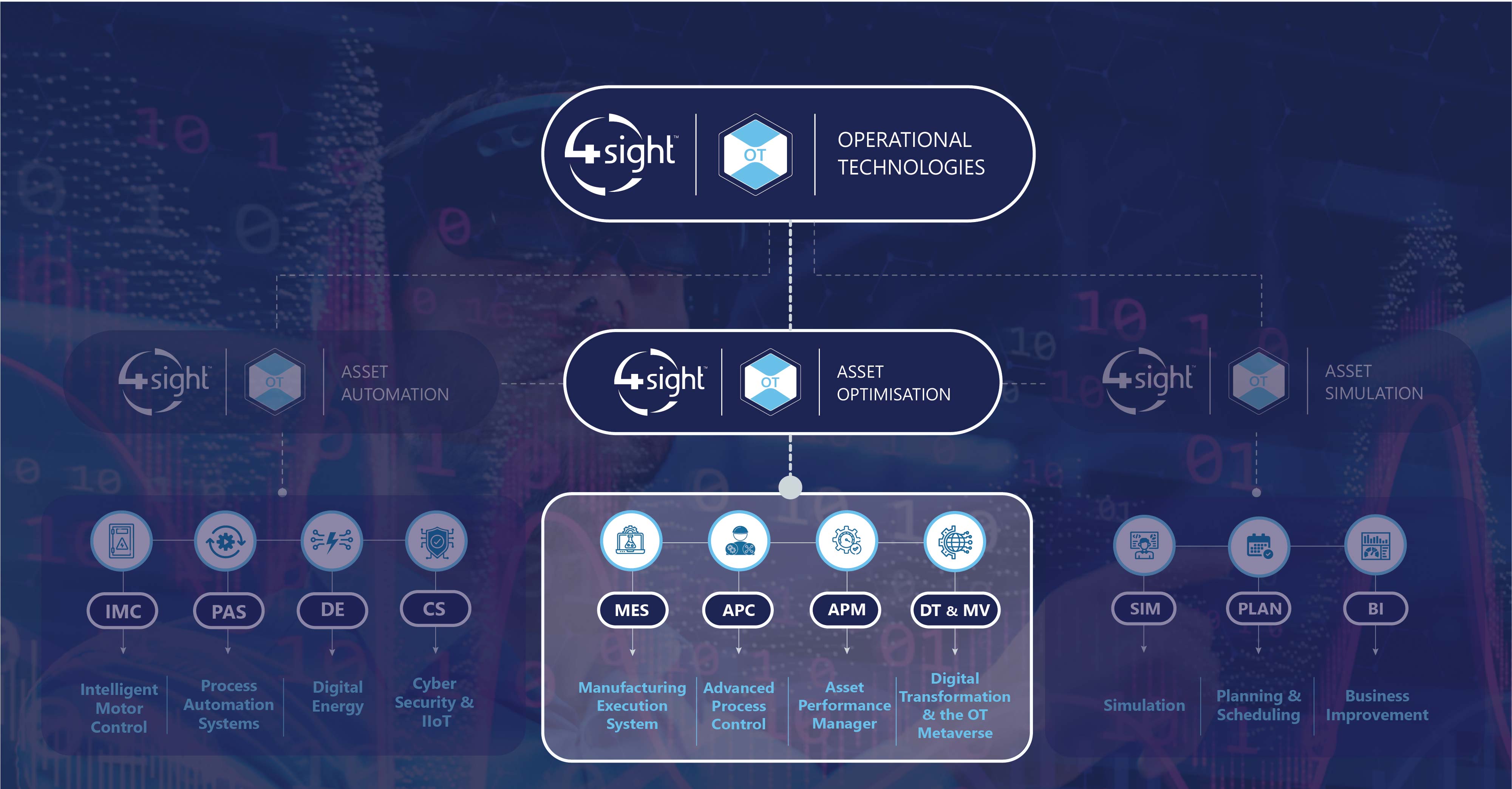 Drive enterprise-wide compliance, quality, and efficiency.
How do we effectively collect, manage and leverage the vast amount of data within your organisations? The key is an efficient Manufacturing Execution System (MES). MES delivers efficient data management, operational intelligence via rich visualisation and analytics, and improved production execution—enabling process manufacturers to quickly identify and resolve operational issues.
MES (Manufacturing Execution System
Unparalleled Visualisation and Analytics in a Single Real-Time Environment
Enhance Plant Production with AspenTech MES Solutions
Consistent User Interface for ALL Applications
Real-time database & historian
Enterprise operations reporting (EOR)
Downtime management
Weighbridge solutions

Achieve production excellence with industry-leading APC Technologies
4Sight's expertise in the Advanced Process Control field has been on the forefront of Multivariable Model Predictive Control (MPC) projects since 2000 and a multitude of benefit-driven projects have been implemented across the world in both the Mining, Metals and Minerals sector as well as the Petrochemical sector.
4Sight's Advanced Process Control solutions provides a full set of integrated features for developing, deploying, and maintaining advanced control applications.
Solutions addressing industry challenges:

Adapt and optimise simultaneously
Simplify tuning and optimisation
Improve Performance with robust control
Monitor with real-time diagnostics

Delivering on the Promise of Prescriptive Maintenance
Maximise safety, sustainability and productivity by turning unplanned downtime into planned downtime. Industry-leading solutions combine machine learning with predictive analytics to anticipate issues before they occur. Keep assets running at peak efficiency, improve safety and eliminate costly unplanned downtime. Leading asset-intensive companies are using prescriptive maintenance—powered by AI and machine learning—to unlock the value and productivity lying un-captured in assets. Using a scalable, easy to implement prescriptive maintenance solution, companies can improve the accuracy of failure detection, increase the advance notification period of asset downtime events and reduce maintenance spend.
Benefits of Asset Performance Management
Reduce downtime and save cost;
Stockpile critical inventory management;
Helps to implement staff resources efficiently;
Optime processes &
Reducing Risk

Digital Solutions
Enterprise Operations Management
Higher Levels of Efficiency
Digitally Empower People