Asset Performance Management (APM)
Eliminating Unplanned Downtime with Actionable Insights.
Eliminating Unplanned Downtime with Actionable Insights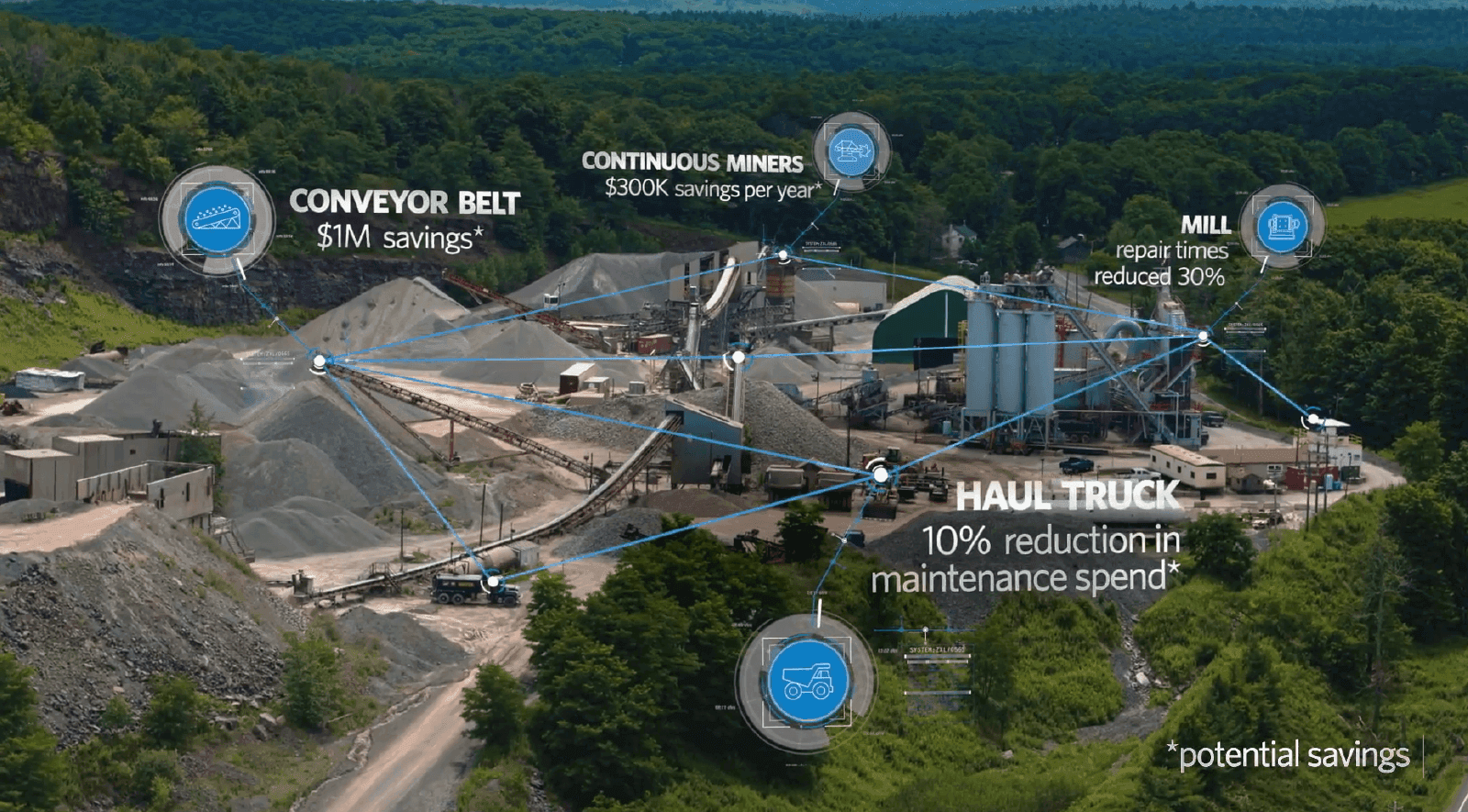 Industry-leading solution combines machine learning with predictive analytics to anticipate issues before they occur. Keep assets running at peak efficiency, improve safety and eliminate costly unplanned downtime.
The Science of Maintenance

Get accurate failure alerts weeks or months in advance with real-time data and predictive analytics.

A Multi-Level Approach

Leverage the combination of prescriptive maintenance, root cause analysis, RAM analysis and more to address issues at the equipment, process and system levels.

Rapid Time to Value

Quickly deploy automated Asset Performance Management solutions through low-touch machine learning to predict asset failures and reduce downtime — plant-wide, system-wide or across multiple locations.

Asset Performance Solutions

Aspen Mtell®

Get early, accurate warnings of equipment failures to avoid unplanned downtime, and prescriptive guidance to mitigate or solve problems. Read more
Aspen Mtell® Advantages
Prescriptive guidance Advantages
Potential failure avoidance
Low-touch machine learning
Equipment-and process-agnostic
Earlier detection of equipment wear
More accurate failure detection with fewer false alarms
Aspen Fidelis Reliability™

Aspen Fidelis is a reliability management solution that is uniquely designed to take process flows into account, and the impacts of failures and repairs on overall plant performance and revenues.
Aspen Fidelis Reliability will give you an accurate, comprehensive bad-actor list, quantified by lost revenue and production - not just by maintenance. You can more effectively perform life-cycle analyses on assets including asset utilization, overall equipment effectiveness, and other parameters that define operating conditions, reliability, and costs of assets.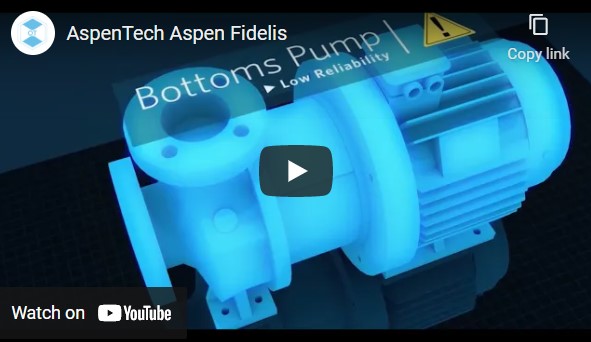 Aspen Fidelis Reliability has demonstrated the ability to reduce CAPEX for new projects by well over 5% and/or increase production by well over 3% by giving insight into availability. Aspen Fidelis Reliability is a reliability modelling tool that enables owner operators and EPCs to determine probable outcomes—spanning design, capacity, operations, maintenance, logistics and market dynamics—and quantify the financial impact on any asset, unit, or site. Learn more
Aspen Fedelis™ Benefits
Achieve upfront design optimisation
Optimise design redundancy and buffering
Determine the optimum number of spares needed
Understand process flows and level of impact
Quickly and confidently validate model logic and results
Aspen ProMV™

Multivariate analysis reduces product & process data to its essential dimensions which are much easier to visualize and interpret. Aspen ProMV analyses interrelated process data to identify the minimum critical set of variables driving the quality and performance of the process and identifies optimal setpoints.
Map your operating space from available plant data - Aspen ProMV exploits the tens of thousands of recorded "experiments" in your plant historian to develop a robust model of the process that can predict plant performance at different operating points.
Stabilize quality, yield and productivity - Understand and remedy the causes of recurring process upsets. Find key patterns of movement in process variables that trigger undesirable outcomes. Insights gained often lead to significant operational improvements.

Persist these improvements via online multivariate monitoring - Sensitively detect and diagnose subtle shifts from optimal process operation. Aspen ProMV enables early, informed intervention by operations personnel.

Aspen ProMV Benefits
Quality deviation analysis
Unit yield analysis
Production capacity degradation analysis
Offline multivariate analysis
Online multivariate analysis
Batch process variability analysis
Key Capabilities
Continuous or batch process optimization
Online batch multivariate analysis
Automated batch data alignment
Aspen Connect™ Family

Integrate industrial data across existing data historians with cloud-ready solutions to achieve maximum performance, security, deployment and flexibility for stranded data.
Whether your assets are old or new, near or far, Aspen Cloud Connect™ and Aspen Edge Connect™ can effortlessly collect production data from them in real time. Connect to any source of asset, sensor, MES or ERP data that drives your operations with a flexible IIoT infrastructure. Connect, conjure and go!
Gain Full Visibility of Your Data

Maintain end-to-end visibility by collecting data from every device and moving it to the cloud.

Leverage Your Existing Systems


Use existing software and tools to minimize disruption and reduce expenses.

Scale Up and Out

Leverage machine learning and the flexibility of the cloud to create efficiencies and easily scale your business.
With Aspen Cloud Connect, you can pool together enterprise and remote data for analysis in the cloud. Leverage your plant's existing MES system and take advantage of historical data to expedite your IIoT initiatives.
Aspen Cloud Connect delivers:
Support for legacy industrial protocols and MQTT
Machine-to-machine (M2M) connectivity
Easy-to-use and intuitive toolkit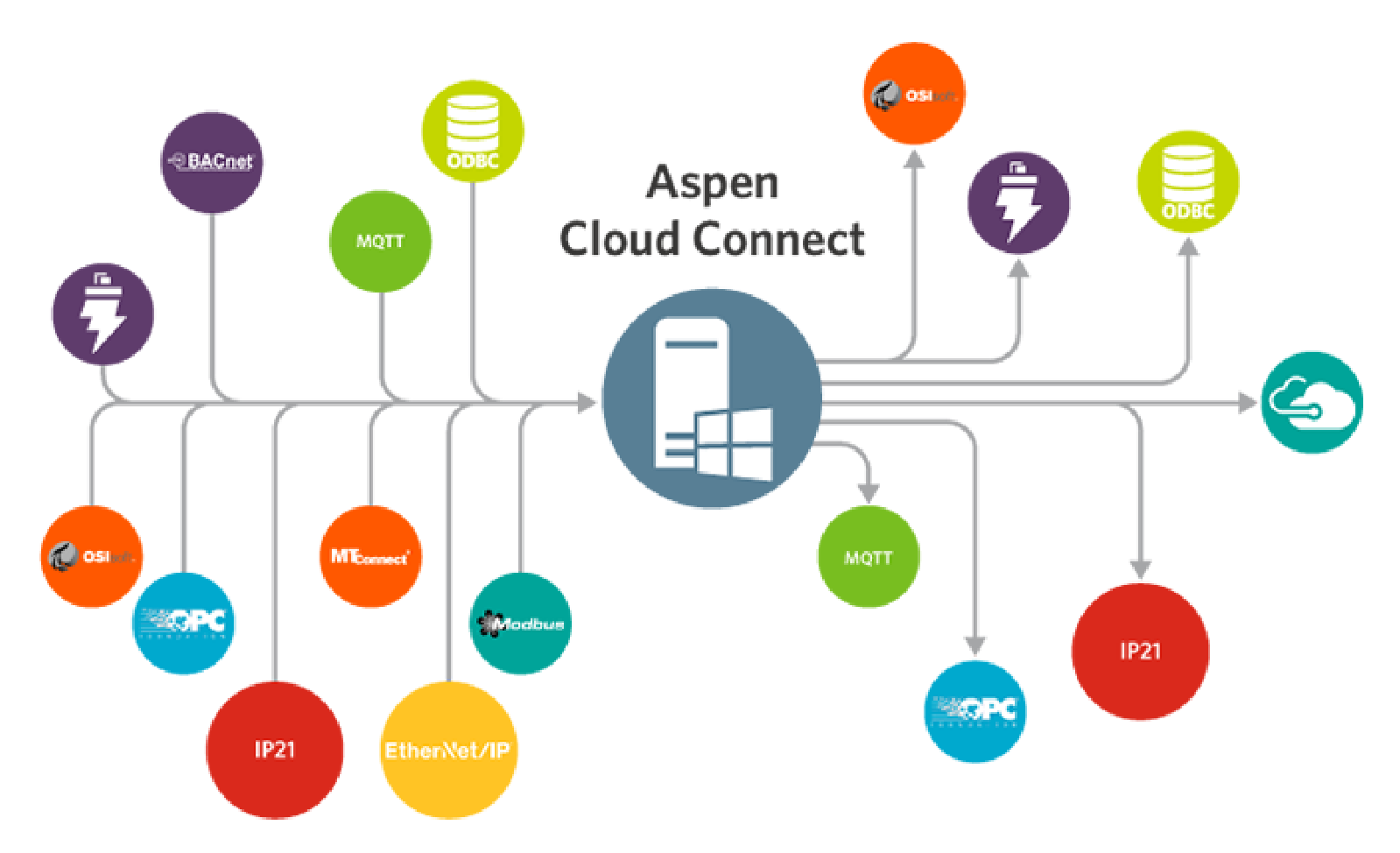 Aspen Edge Connect links assets and sensors (wired or wireless) to existing enterprise systems or the cloud. A drop-in solution with no "rip and replace" required, Aspen Edge Connect uses today's newest edge technologies to reduce deployment costs by as much as 70 percent. No infrastructure? No problem!
With Aspen Edge Connect, you can:
Deliver data from stranded assets to enterprise MES systems or data lakes
Eliminate time wrangling data, with all protocols in a single application
Leverage the MQTT protocol for small sensors and mobile devices
Maximize ROI through smart data handling.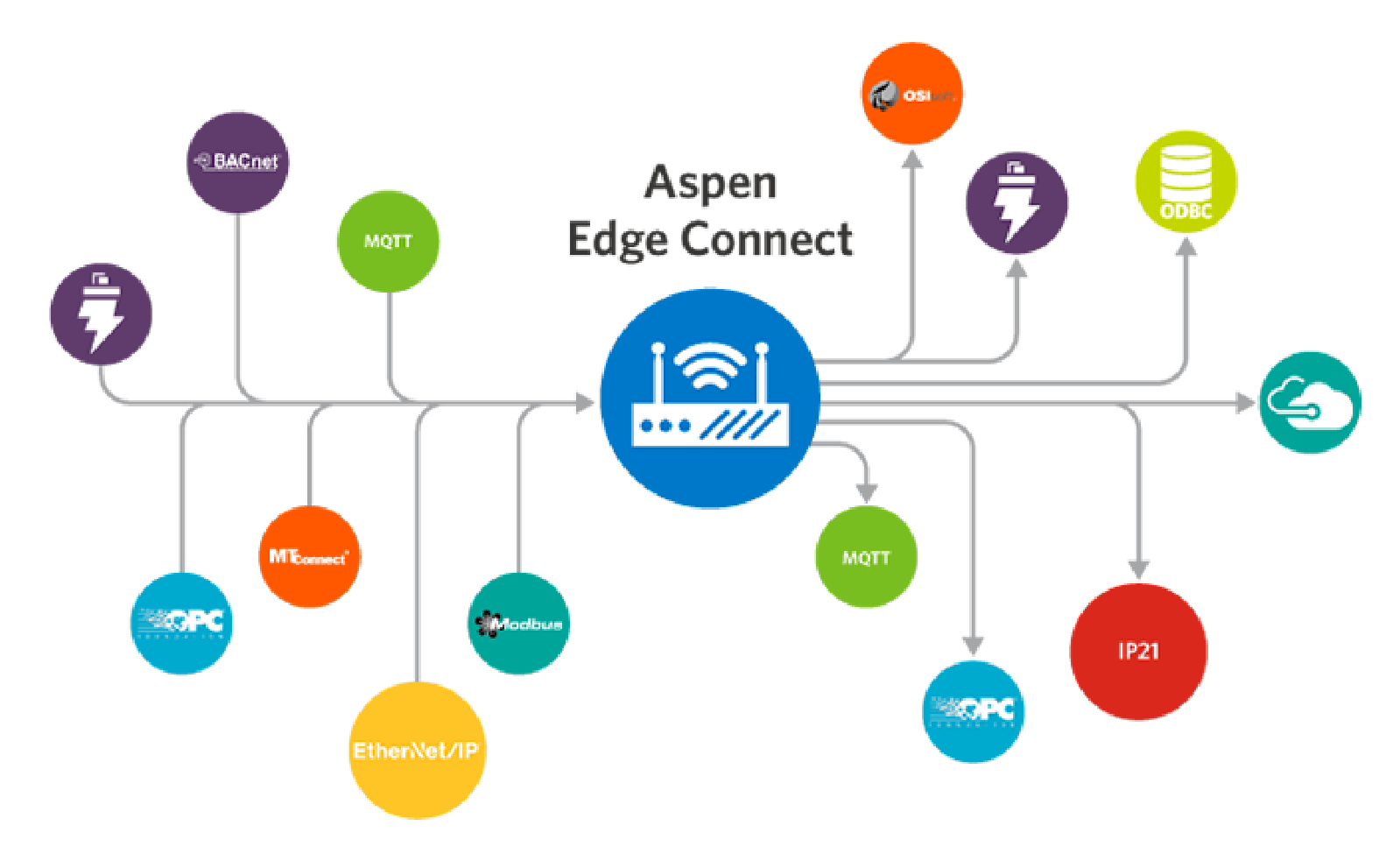 We offer customised and specific training courses to ensure that you perform at your best,
Contact Us.