4Sight IT Sage 300cloud
A renowned global ERP solution with a local touch

Conduct business across locations in different currencies, managing your finances, operations and inventory.
Sage300cloud offers an effectual ERP solution that is globally well known and tailored for small and mid-market organisations. And with more than 30 year's in existence and a Partner in 4Sight with as much experience in implementing and supporting the Sage 300cloud solution across Africa, expect a reliable and stable solution to run your business.
Better operations with Sage 300cloud
Healthier collaboration due to transparency right across the company
Draw on single, accurate real-time details of finance and operations
Integrated processes offer improved management
Anytime, anywhere access with Cloud and mobility
Enhanced performance and productivity due to optimisation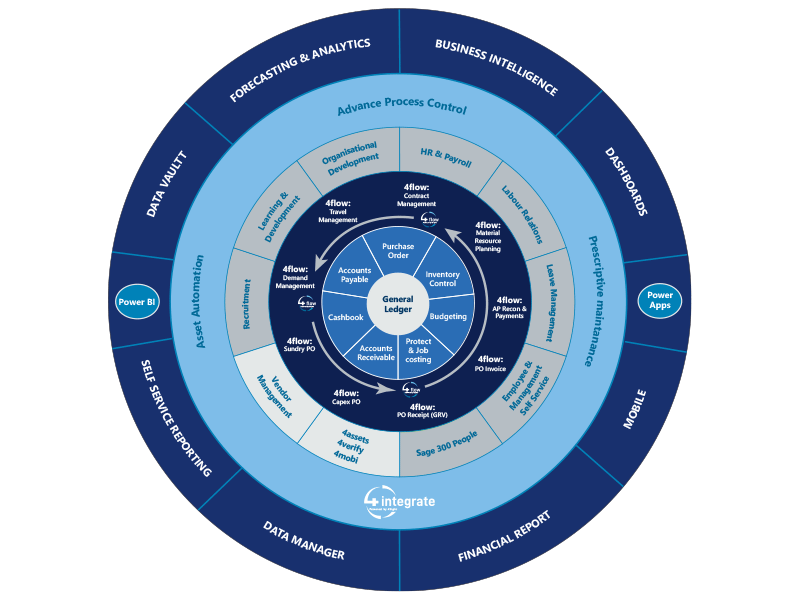 Managing your Financials
Sage 300cloud is a trusted, all-in-one financial management solution supporting multiple companies, currencies and regions. It is a powerful but uncomplicated solution. Sage 300cloud offers:
Visibility
Scale
Selection
What can you expect with Sage 300cloud ERP?
Live visibility and a holistic view of your business to ensure agile and effective decision-making and planning
Comprehensive financial solution – managing accounting and finances
Efficient inventory control, resulting in satisfied Partners and Customers right across the value chain
Opportunities for growth with insight provided into customers, sales and marketing activities

Sage 300c Core Functions
Accounting and finance – core financial management, reporting and ensuring compliance

Sales and customer management – experience better sales and customer management using integrated processes

Purchasing and Supplier management – simplified and efficient order processing through your Suppliers with Sage 300cloud

Business Intelligence and reporting – analyse crucial information for insights and actions to make improvements across the business

Inventory and Warehousing – monitor and track your stock easily, for absolute control

Customer Service – customer service and satisfaction levels optimised with Sage CRM integration
In addition, Sage has an extensive network of independent software vendors who provide add-ons to complement Sage 300cloud solution and assist in meeting your overall business management requirements.