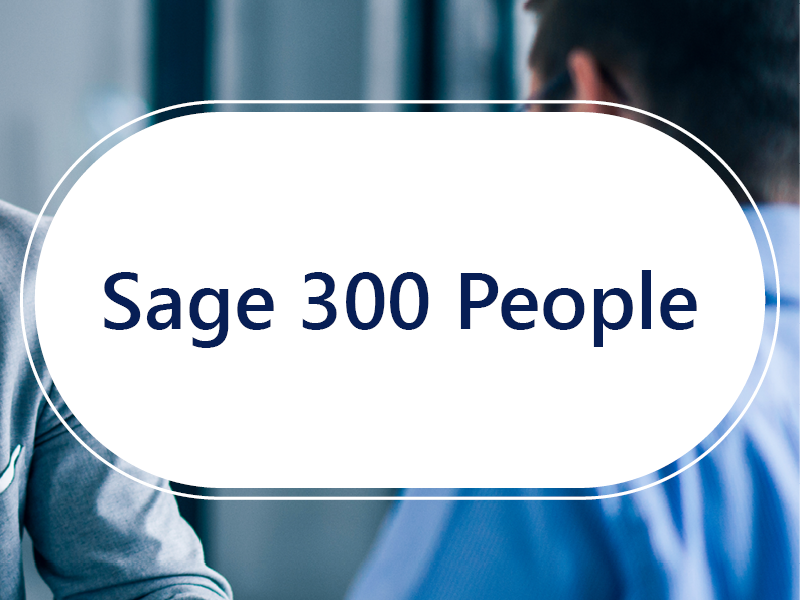 Sage 300 People
Simple and Secure Human Resource and Payroll Solutions
Sage HR and Payroll software is used by more than 24 000 companies and Sage HR and Payroll software is used by more than 24 000 companies and more than two million pay packages are calculated each month using Sage 300 People.
Small to Medium organisations
Unlimited employees & companies
Unlimited hierarchical levels, pay period configurations and pay runs
Intuitive user interface
Runs on MS SQL
Full HR, Payroll & ESS
Statutory compliance throughout multiple countries in Africa
Seamless integration into Sage 200 Evolution & Sage 300cloud
Why Sage300 People?
Integrated
Provides a single source of insight into your organisation through a single database for all your payroll and HR data. Seamlessly integrates with all other Sage accounting applications.
Automation
Automated and streamlined business processes allow you to avoid hours lost to manual tasks and potential errors through a set of tools that are fast, intuitive, and tailored to your business.
Scalable and Configurable
Sage 300 People is an agile, cost-effective, and innovative solutions with world-class capabilities that allow it to do all the hard work for you. No matter the size and complexity of your business.
Sage 300 People Payroll
Sage 300 People Payroll ensures that every pay run is completed with precision and your business is compliant with relevant legislature. Use the powerful tools provided by Sage 300 People to access
insight that is valuable to your organisation and connect with your employees. Payroll in 300 People has top class features that give you total control of your payroll process. API's are available for integrations with other solutions.
Sage 300 People HR
Sage 300 People HR is a solution that supports HR and Payroll processes that are already in place in your business. This HR solution also gives valuable time back to your HR and people Teams that they can spend focused on strategic activities by eliminating manual, repetitive admin activities through its wide range of tools that facilitate the management of the employee journey.
Self-Service
The self-service function frees up resources that would normally be wasted on mundane admin issues by empowering your employees to own their personal and minimising data maintenance for your HR and People teams.