Success Case - Reckitt Benckiser Group - Process Control System (PCS) Upgrade
07 July 2022
The Reckitt Group approached 4Sight's Operational Technology team for a complete Process Control System (PCS) Upgrade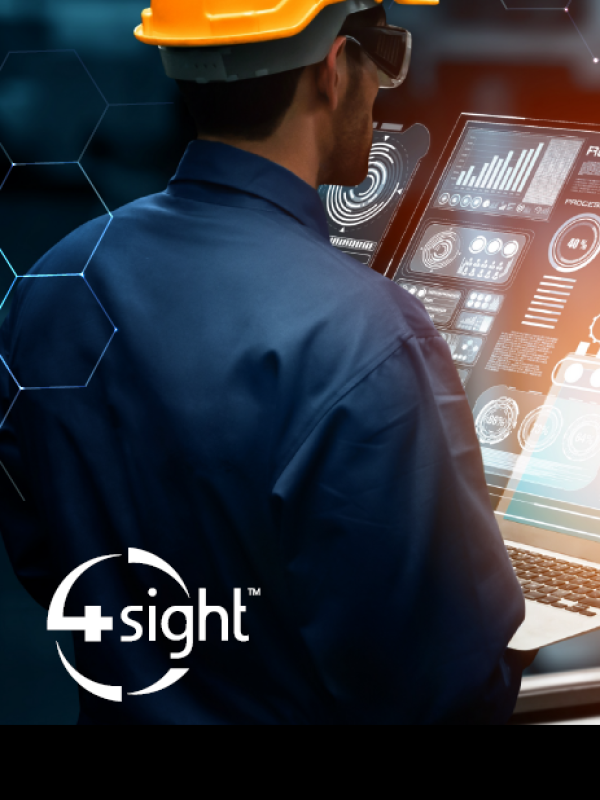 Reckitt Benckiser Group PLC, trading as Reckitt, is a British multinational consumer goods company headquartered in Slough, England. It is a producer of health, hygiene, and nutrition products. The company was formed in March 1999 by the merger of British company Reckitt & Colman plc and Dutch company Benckiser N.V. Reckitt's brands include the antiseptic brand Dettol.
The Reckitt Group approached 4Sight's Operational Technology team for a complete Process Control System (PCS) Upgrade that required FDA 21 CFR Part 11 compliance to allow monitoring and tracking of the production of Dettol, at its facility in Elandsfontein.
4Sight | OT | Asset Automation was appointed to design, develop, install, commission, and perform validation tests of the new PCS System. It was further required to provide training of the site personal and 24/7 services and support.
Business Challenges
The key challenges that needed to be addressed as indicated by the User Requirements Specifications were as follows:
Efficiency: The existing System was on average only 18% efficient, resulting in lost production and increased wastage. Production consistency was a big problem that needed to be resolved.
Design: The previous PCS system had some fundamental flaws such as insufficient instrumentation that resulted in problematic production. Unplanned outages and power failures caused the system to freeze that resulted in lost batches and major wastages.
Good Manufacturing Practices (GMP): The system did not comply with GMP and it was possible to override key control points without due process. The system also did not provide appropriate audit trails, records, and batch related reporting. The complexity of the system led to extensive production outages and made it difficult to maintain.
Requirements of the upgraded PCS system:
Apart from the newly developed PLC and SCADA, it was also required to develop Batching, Recipe management and reporting with a Historian. System redundancy was crucial on both the PCS system's servers and the and control system Network to reduce the possibility of downtime. The Historian and batch reporting provided the required tracking and traceability. Remote access to the PCS system was a necessity to provide 24/7 support.
The Solution
4Sight | OT 's Asset Automation division designed a PCS solution that incorporated AVEVA and Siemens technologies. A redundant Intouch SCADA was integrated with FDA 21 CFR Part 11 compliant Aveva Redundant InBatch batching application. A S7-1500 Siemens PLC was used for control of the plant and the redundant network ring was built with MOXA technology. The Servers were hosted on DELL Technology and virtualised using the Microsoft's HyperV technology.
Key features of the solution included:
Redundant Fibre ring.
Virtualized Redundant SCADA Application.
Redundant Batching Application.
Multi-user approval for recipe hold points.
Remote access into the PCS system on the plant.
Enhanced operator awareness by implementing situational awareness philosophy in the SCADA application.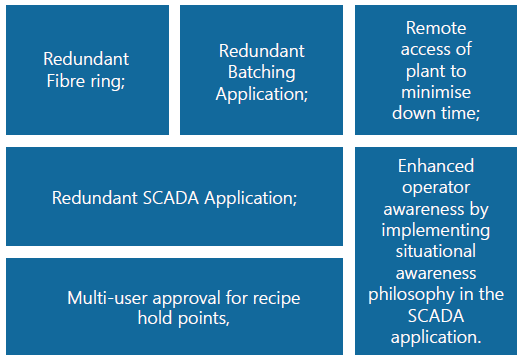 Benefits and Advantages for Reckitt
Consistency, safety, and accuracy are extremely important for companies producing pharmaceutical products. The upgraded SCADA system supported these factors by ensuring high plant availability and full traceability. The upgraded system provides excellent flexibility in recipe procedures and enhanced batch application capabilities with the ArchestrA platform integration. Maximum utilisation of equipment was achieved for increased performance and productivity.
Consistent production quality was achieved, and material management was improved. Management will benefit from running the plant from the Operator Station as well as from the Laboratory Area. The system now fully complies with the FDA 21 CFR Part 11 requirements.
The Results
The facility can now enjoy the advantages of a high performing SCADA and Batching application. 24/7 access to plant with system diagnostics ensures problems are resolved easily, and downtime is kept at a minimum. The comprehensive electronic batch record and reporting capabilities ensure that relevant and accurate data is available to aid in decision making, problem detecting and process monitoring.
4Sight | OT | Asset Automation - Your partner in Control Systems Solutions
Downloads